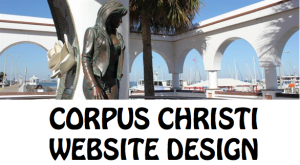 Night Owl Marketing has your back with Custom Corpus Christi Website Design at an affordable price plus inexpensive domain names & hosting too!
Each custom design includes an evaluation of your business needs, preferences, and is tailored just for you.
Are you a business based out of Corpus Christi Texas? How well do you currently show up on search engines for your businesses key words - or for the Corpus Christi area?
We work with businesses so they show up higher on major providers like Google. You definitely want other Corpus Christi residents to be able to find your website online.
What about a fresh look for on your existing website design? We are experienced enough to work with anything - and can take you from "drab" to "fab"!
Other than specializing in Corpus Christi website design, we offer a full range of other services to cater to any type of business. Other services include mobile optimization, re-branding or re-designing, social media campaigns, e-commerce solutions to sell online, monthly packages (like website maintenance), and of course search engine optimization!
Whether it be non-profit, retail, restaurant, services we can create a website for you. Even better, we are easily accessible being based out of Port Aransas, Texas. 
For all your website design and business needs, call us today for free to discuss what options there are to increase the success / brand awareness of your Corpus Christi business.