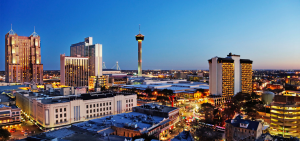 San Antonio is one of the major cities in Texas, which means a lot of commerce and business relations take place there!
(Not to mention, have you heard of the San Antonio River Walk?! It is breathtaking, and a BLAST to visit.)
So, whether you currently office in San Antonio, starting in the area or just visiting - we have a great Business Guide below!
If you are an entrepreneur or have a business start-up - you might be interested in Geekdom.
Wondering what Geekdom is? Using the fairly new concept to the business world of "co-working space", they have created a mutual work space with wifi for entrepreneurs, creative individuals, and really anyone who wants to collaborate / bounce ideas off of. Unfortunately, no walk-in program yet, but they do offer low monthly rates to join!
This could be somewhere to meet up with potential consumers, business partners, clients, & anyone else without breaking the bank. We highly recommend this place.
As far as San Antonio Restaurants, here are our favorites:
Bohanahs (Prime Steaks & Seafood)
Here you are able to have a quiet place to speak over business details, while of course dining in style. This would be a nice place to take someone out whom you've recently closed a large deal with or are looking forward to working alongside in the future. They offer unique lunch selections in addition to their dinner menu, so you can go within your normal business hours. We highly suggest trying one of their specialty coffees for that mid-day energy boost (and because they are delicious)!
The Guenther House (Breakfast / Brunch)
Start your day off on the right food with some gourmet breakfast. Open 7 days a week, from 7am to 3pm - there is always time to fit this place into your schedule! Not only do they have really great food, they are also a historical San Antonio destination so your out of town guests will love getting to knock out both business and vacation at the same time.
Boudro's Texas Bistro (Scenic Lunch or Dinner)
Remember us talking about the River Walk? Well, you get to enjoy this dining experience with a view! Located on the River Walk, this is a popular bistro with unique drinks & famous guacamole. It is also very reasonably priced, so you can take just about any client here and enjoy the sights / yummy cuisine.
Local Coffee (Speak's for Itself)
Okay this isn't a restaurant, so why did it make the list?! Because...COFFEE, that's why! With three locations to choose from—and all open seven days a week—Local Coffee is definitely a very convenient meeting place. They have plenty of tables, couches, and spots to discuss business over your favorite brews.
Prime Meeting Spaces:
Located just minutes from the River Walk and the Alamo, Plaza Club is where the leaders of San Antonio gather for business and social networking. Its multimedia-capable meeting rooms, Member workstations and business technology make it the perfect place to do business away from the office.
This is a uniquely flexible conferencing center, designed to accommodate your company's every business need in a welcoming atmosphere. This modern event, meeting and training venue is located in historic downtown San Antonio.
Between one of these places mentioned - we feel confident that you will be able to make a lasting impression for your business.
If you need additional business resources, feel free to connect with us!