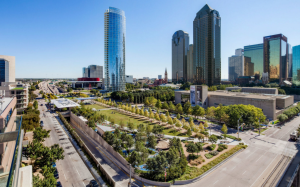 Dallas Fort Worth can be a difficult place for anyone to navigate, whether they are a newby or even a resident.
With sky rises left and right, tons of restaurants, and winding highways - we took it upon ourselves to narrow things down for you.
Now, the Dallas Fort Worth metroplex encompasses a really big area. We tried to pick the best of the best spots, but since our founder was born & raised in the DFW area we had to hold back on being partial to her favorite spots...
DFW is very "forward" in the times, so they have many unique co-working solutions.
Never heard of co-working? Coworking is a style of work that involves a shared working environment, yet independent activity. Unlike the typical office environment, a coworking space is generally shared by individuals from different organizations and professions.
Featured Places:
Dallas Fort Work- We love this place because it is conveniently open 24 hours everyday of the week! Also, they offer 1 DayPasses.
The Grove- They have a large selection of private offices or dedicated desks - at very inexpensive rates.
Common Desk- A great location, with even greater benefits for your budget. A day rate of only $25?! Also have great conference spaces for hourly rentals.
Coffee Shops:
Ascension- This is a high-end coffee and wine bar, perfect for a quiet afternoon meeting to discuss anything on the agenda.
Drip Coffee- No leaking roof here. This coffee joint is located in a perfect spot downtown, brews only high quality and has a very modern look. Their founder also owned an award winning Boston coffeehouse.
Avoca- With two locations in Fort Worth, you'll be happy to find this cozy coffee shop.
Restaurants:
Waters- Fine Coastal Cuisine. Treat your partners, clients, or prospects to a light-hearted experience with some great food. Uniquely, they also offer private dining rooms, perfect for a group.
French Room- This is an award-winning restaurant recognized by the New York Times. Even better, it is located in a historic hotel, the Adolphus, downtown.
III Forks- This is a classic restaurant to visit for fine dining. They embody the American Steakhouse, and cook steaks, lobster & more exact to order.
Conference Spaces:
Omni- A hotel with a world-wide recognized brand for excellence, this is the perfect place for your guests to stay or for you to rent a meeting space.
Magnolia- With a perfect downtown location, you cannot go wrong.
Connect with us here at Night Owl Marketing for further consulting, (817) 542 - 5951! Make sure your company & brand are always top-notch with our services.